FingerTec Ingress Software
FingerTec's Ingress is an integrated access control management application that runs on the familiar MS Windows operating environment. The software is a complete solution for centralizing, managing, and monitoring door activity in FingerTec access control devices. Bundled together with the Ingressus Controller, Ingress is an advanced, easy to use, and IT-friendly software that provides elaborate access control features such as real-time monitoring, database administration and report management, all in a single unified system. Ideally suited for self-managed organizations of below 100-door environment, Ingress is also capable of seamlessly integrating its access control functions with alarm monitoring and other intrusion detection devices.
Ingress supports all standalone FingerTec access control models that use card, fingerprint and face recognition verification, and multiple terminals can be centralized in the Ingressus Network Control Panel for multiple-door monitoring.
---
Centralized Management


Ingress is a server-client based software that supports surveillance from multiple PCs concurrently, while containing useful access monitoring features such as multi-level users, and user group privileges.

Integrated Time Attendance Features




Useful time attendance features such as weekly schedules, group & personal duty rosters and holiday settings are available, complete with 15 common reports, such as daily attendance listing, and tardiness report.

Graphical Floor Maps


Ingress lets you insert graphical floor maps with configured animated icons for easy and instant tracking of door activity.

Configure Alerts & Notifications




Customize email, sound alerts or push notifications and get notified when certain door events are triggered. Push notifications are supported by both iOS and Android devices.

Real-Time Alarm and Event Monitoring




Access control surveillance has never been easier with the real-time alarm and event monitoring features available in Ingress. Prioritize events and alerts to optimize your security actions accordingly.

Data Analysis & Reporting


Ingress not only centralizes data, but can analyse and generate 29 types of reports for your record purposes.

IP Camera Software Integration




Integrated with IP camera software from Milestone's XProtect series and cloud storage solutions from Epicamera. This increases security by allowing visual observations of monitored areas as well as linking access control events to captured video clips or pictures.

Easy Data Export and Integration




Supports import and export of user data, export of transaction logs and attendance data, plus, the export function comes with template configuration for easy 3rd party software integration.

Database Backup and Restore




Data centralized in Ingress can be kept secure with the fully configurable automated database backup and restore facility.

Offline Alarm & Door Event




The alarm & door event information will be stored in the terminal once the server is down or the connection to the server is lost. These events will be retrieved by Ingress when the server is back up, preventing any loss of event logs.

Comprehensive Audit Trails Report


Ingress keeps data secure and accessible by providing in-depth activity logs and audit trails detailing the user activity, operation or ANY action done, along with its timestamp.

Live System Control


Ingress supports remote unlocking of doors, remote alarm releases and customized door unlocking schedule.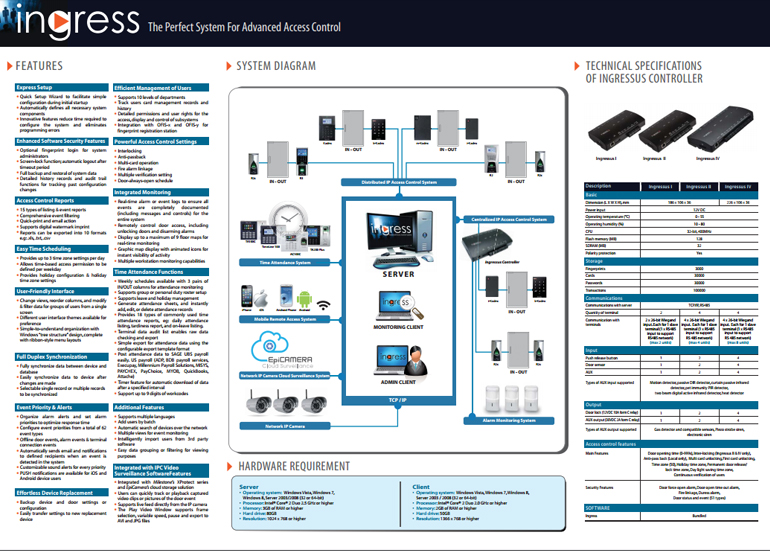 [ Click on images for larger view ]
Ingress Key Features
• REAL-TIME MONITORING
Monitoring
Visual Map
Remote Control
Real time access control event, fire alarm and transaction log monitoring.
Intuitive graphical maps are completely customizable to let you monitor activities.
Control access activities directly from the monitoring station.
• ACCESS CONTROL
Anti-Passback
Fire Alarm Linkage
Interlock
A security mechanism preventing an access card or similar device from being used to enter an area a second time without first leaving it.
Allows the automatic unlocking of emergency fire doors in the event of a fire.
The interlock function enables extra security by ensuring a sequence where one door can only be released when other doors are closed.
• ADDITIONAL FEATURES
Quick Setup
Batch Create User
Event Priority
Built-in Quick Setup Wizard for easy initial startup.
Provides method to import large amount of users from Excel sheets or pre-created card users.
Configurable event priority, recipient email and sound alert.
• ADVANCED REPORTING
29 Comprehensive Reports
Water Mark
Save Reports into Various Formats
Provides 29 comprehensive combinations of data listing, configuration, activity, audit trail, incident, time and attendance, and event reports.
User definable reports, with customizable watermark for background image.
Print and save reports into pdf, xlsx, rtf, html, csv, txt formats and more.