FingerTec AC100C
AC100C is built for cost-effectiveness, so that startups, smaller companies or those with a smaller budget set aside for time management system can still deploy the solution to better their operation. This device holds an amazing capacity for fingerprint templates and transaction records, plus it can be synchronized with the TCMS V3 software for easier data management. AC100C is a great choice for practicality at an affordable cost.
---

Eliminate Buddy Punching
Card system doesn't solve 'buddy- punching' problem where one employee can clock for another employee. Eliminate 'buddy- punching' by using user's fingerprint as identity.

Cloud-Ready Technology
AC100C comes with the latest PUSH technology, suitable for FCC data storage and convenient for TimeTec TA. The technology eliminates the need for manual data download process..

Manage Data Easily
TCMS V3 is loaded with useful features complete with various reports for your business. Its data integration to 3rd party software is made available through the readily available SDK.

Full Colour Screen
AC100C comes with a full color TFT screen. It supports display of corporate advertisements, screen- savers and more.

Workcodes
Let your staff experience more independence by reporting their whereabouts via our workcodes feature.

Data Management Simplified


FingerTec AC100C is equipped with TCP/IP connectivity and when that is not available, a USB flash port can be used to transfer transaction logs into your computer.

Precise Recognition
A100C uses minutiae point matching fingerprint technology, an advanced algorithm to match the stored fingerprint template with the live one to guarantee authenticity.

Value for Money
This model was designed to be economical so that you are able to implement FingerTec solutions at a lower cost. We believe that when it comes to security, there should be no compromise.
Layout Plan
for illustration only * Optional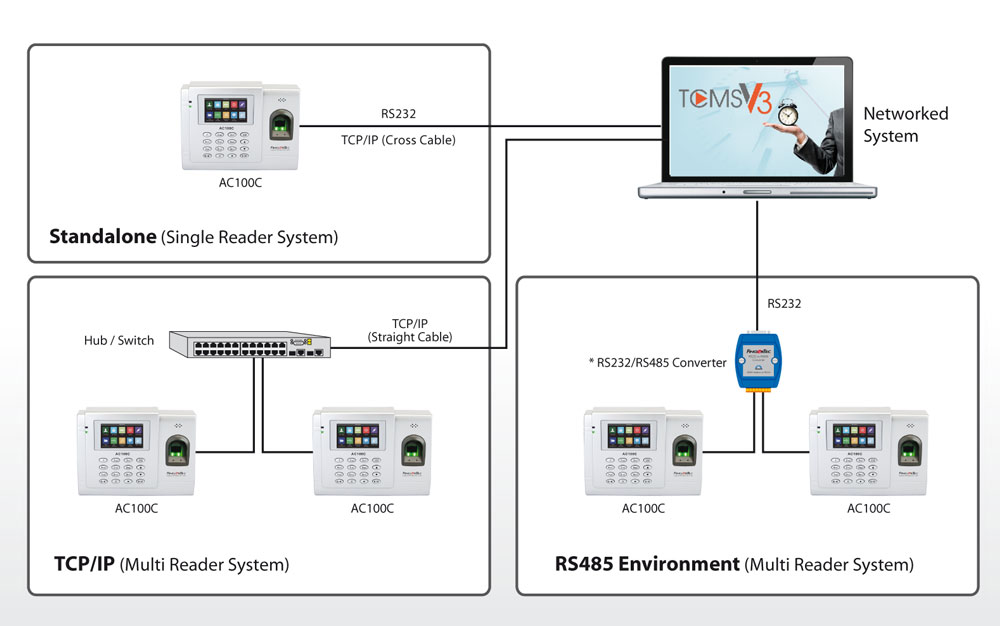 SPECIFICATIONS

MODEL
AC100C
SURFACE FINISHING
Acrylonitrile butadiene styrene (ABS)
TYPE OF SCANNER
Non coated optical scanner
MICROPROCESSOR
800 MHz
MEMORY
256 MB flash memory & 128 MB SDRAM
ALGORITHM
BioBridge VX 9.0 / VX 10.0
PUSH TECHNOLOGY
Yes
PRODUCT DIMENSION (L X W X H), mm
195 x 48 x 144
STORAGE
• Fingerprint templates
8000
• Transactions
200000
ENROLLMENT & VERIFICATION
• Methods
Fingerprint (1:1, 1:N) & password
• Recommended fingerprint per user ID
2
• Fingerprint placement
Any angle
• Verification time (sec)
< 1
• FAR (%)
< 0.0001
• FRR (%)
< 1
COMMUNICATIONS
• Method
TCP/IP, USB disk

(Optional: RS232 & RS485)

• Baud rates
9600, 19200, 38400, 57600, 115200
OPERATING ENVIRONMENT
• Temperature (°C)
0 ~ 45
• Humidity (%)
20 ~ 80
• Power input
DC 5V 2A
TIME ATTENDANCE
• Work codes
Yes
• Fast transaction checking
Yes
MULTIMEDIA
• Voice
Yes
• Display
3.0" 65k color TFT screen
• Short messaging
Yes
• Photo ID
Yes
VOICE / DISPLAY LANGUAGE (TERMINAL)
English (Standard), Arabic, Indonesian, Chinese (Simplified), Cantonese / Chinese (Traditional), Thai, Vietnamese, Spanish, Portuguese (Portugal), French, Russian, German, Turkish & Persian
Other languages are available upon request.
SOFTWARE LANGUAGE
Arabic, Bulgarian, Chinese (Simplified), Chinese (Traditional), English, German, Hindi, Indonesian, Kurdish, Malay, Portuguese, Russian, Spanish, Thai, Vietnamese