FingerTec TCMS V3 Software
TCMS V3 is a powerful time and attendance designed based on FingerTec's years of experience in the industry. Loaded with all features of its predecessor TCMS V2, TCMS V3 offers more amazing features on MS Access and MySQL platforms. MS Access is intended for a simpler data management and straight forward installations while MySQL is designed for a much larger database management. TCMS V3 centralizes, stores and manages all time attendance database extracted from FingerTec Time Attendance biometrics and card terminals, and generates various useful attendance related reports and integrates with various third-party software.
---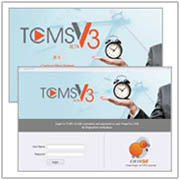 Intuitive UI Design
TCMS V3 emphasizes on its UX, delivering positive experience with its user-intuitive features and functions.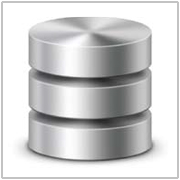 Database Management Made Easy
TCMS V3 supports import and export data, and it comes with template configuration to ease third party software integration. It also allows periodic database backup and restoration.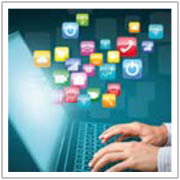 Instant Message Feature
Public and private messages can be set in TCMS V3 to smoothen communication within organization. Broadcast the message to everybody or send it to only selected employees, viewable when they verify their credentials at the machine.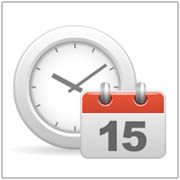 Clocking Schedules
Provides daily, weekly, and flexible clocking schedules to support normal, overnight and multiple shifts configuration.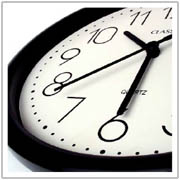 Integrated Time Attendance Features
TCMS V3 contains useful time attendance features like group and personal duty rosters plus holiday settings.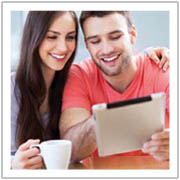 Audit Trail
TCMS V3 helps users keep abreast of their user activities, operations or any actions performed at the terminal by providing details in audit trail report complete with its timestamp.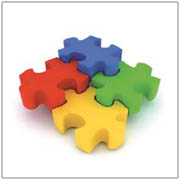 Hassle-Free Payroll Integration
Simplify payroll integration by exporting your attendance data from TCMS V3 into your third party payroll provider's application with just one click.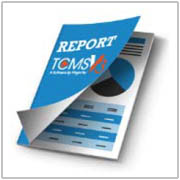 Report Generation
TCMS V3 has 30 pre-configured reports that can benefit your organization and they are available in presentable and printable format.
TCMS V3 FingerTec Solution Powerhouse


Centralized management of up to 999 FingerTec models and terminals over an IP network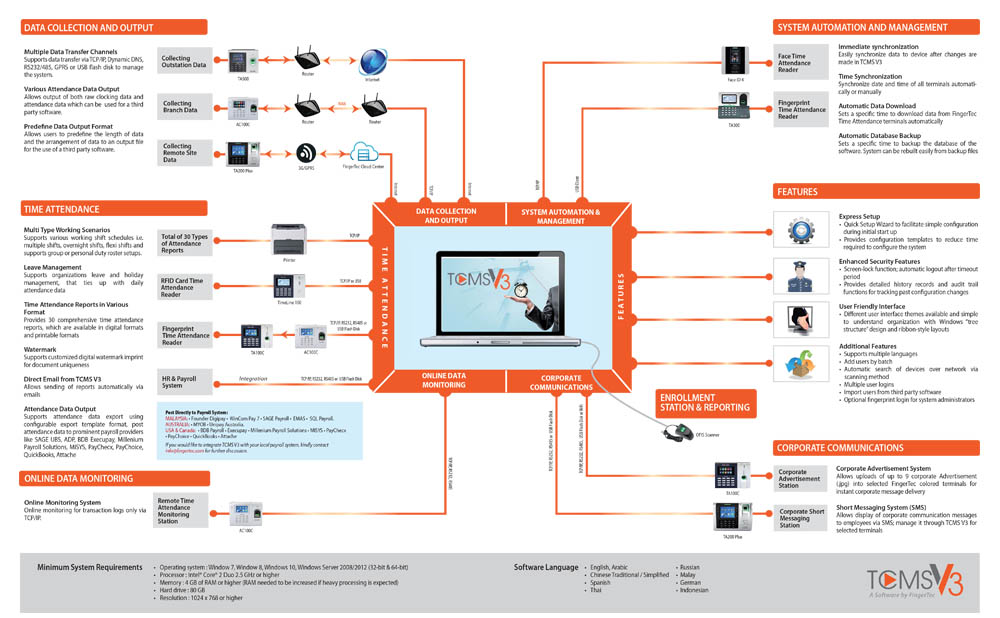 • TERMINAL USER MANAGEMENT

Built in Setup Wizard for hassle-free startup

Real-time monitoring of staff's time attendance records

Easy management of advertisement backgrounds and user photos

• ATTENDANCE AND SCHEDULING

Provides daily, weekly, and flexible clocking schedulesto support normal, overnight and multiple shifts configuration

Able to configure individual or group duty roster with the calendar based user interface

Users' attendance records are available for editing and viewing by users and authorized administrators

• REPORT GENERATION

Save Reports into Various Formats

Provides 30 comprehensive time attendance reports useful for any organization

Supports customized digital watermark imprint for uniqueness of documents

Print and save reports into PDF, HTML, MHT, RTF, XLS, XLSX, CSV, TXT, Image and XPS formats

• ADDITIONAL FEATURES

Provides optional fingerprint login for system admin by using OFIS TA

Allows addition of large quantities of user easily by batch

Provides setup of communication messages to employees via SMS for selected terminals