FingerTec TA500
If you are looking for an affordable, reliable and simple biometrics time attendance clock, TA500 is your ultimate choice. It can contain up to 2000 fingerprint templates and 80,000 transaction logs in its flash memory at any given time. TA500 verifies fingerprint, password and it accepts embedment of card technology upon request. Equipped with the most commonly used IP communication method and USB flash disk, TA500 is the most powerful simple attendance system for your small and medium offices.
---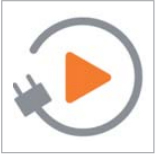 Plug and Play
TA500 is easy to operate, connect it to the power source and it's ready to roll! Comes with in-built battery, you can make it portable for your convenience.

Easy Data Management
IP communication and USB Flash disk are available for your choice of connectivity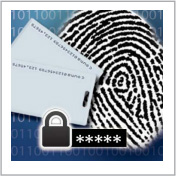 Versatile and Secured Verification
TA500 gives you a variety of verification options such as fingerprint, password or card, or combination of options, providing you security and versatility you need.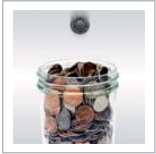 Get Your Money's Worth
This model was designed to offer biometrics solution economically, giving you efficiency and performance without putting a hole in your pocket.

Intuitive Navigation
Equipped with colored screen LCD and intuitive icons, navigation in TA500 is made simple.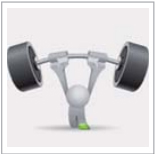 Sturdy Exterior
Made from robust materials, TA500 can stand the wear and tear for years to come and it comes with 3 years limited warranty.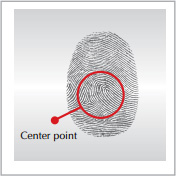 Small in Size, Large in Storage
The compact TA500 can contain up to 2,000 fingerprints and 80,000 transaction logs, more than sufficient for your office requirements.

Manage Data Easily
TCMS V3 is loaded with useful features complete with various reports for your business. Its data integration to 3rd party software is made available through the readily available SDK.
Layout Plan
System Communication
for illustration only **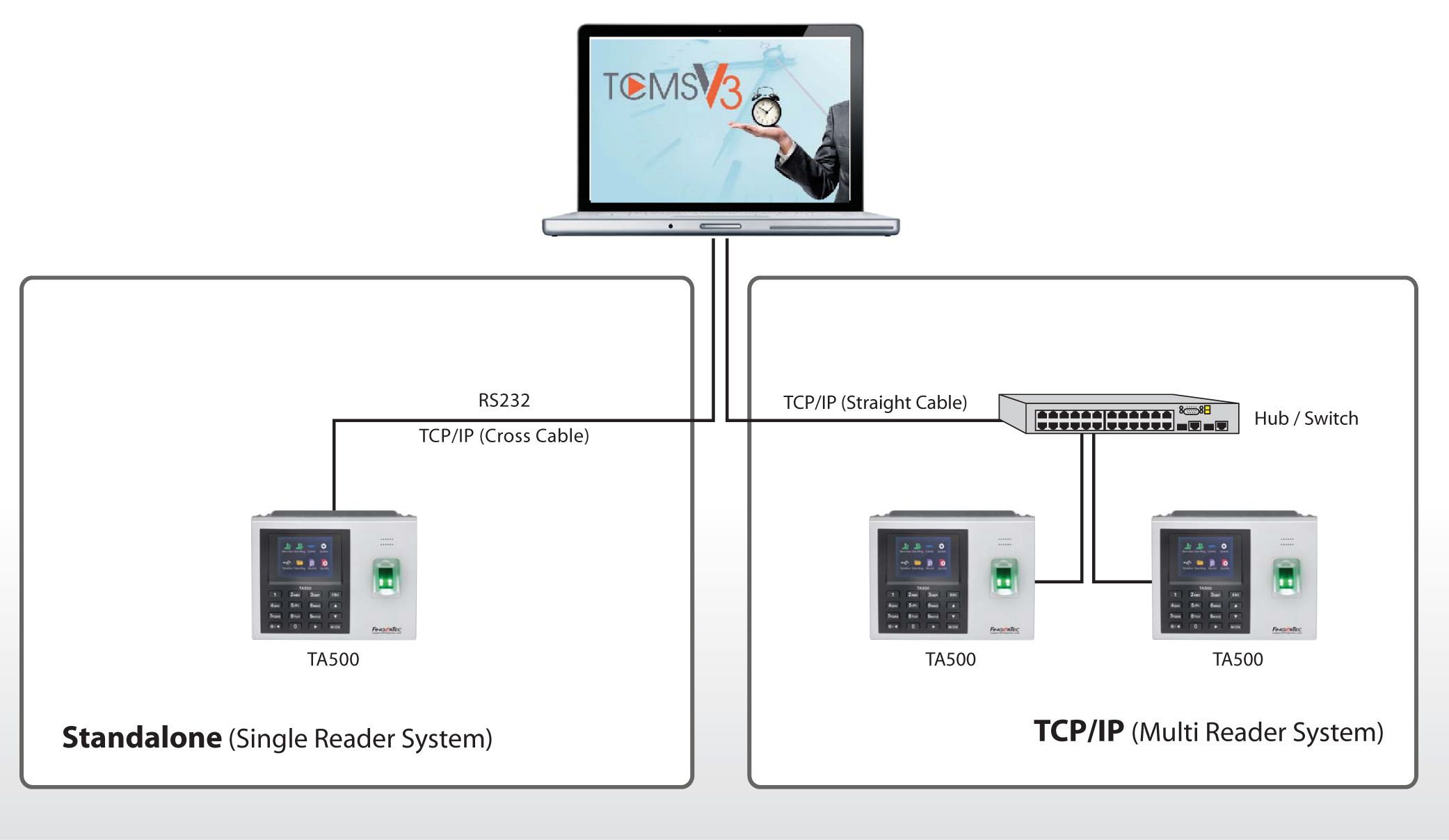 SPECIFICATIONS

MODEL
TA500
SURFACE FINISHING
Acrylonitrile butadiene styrene (ABS) & Polycarbonate (PC
TYPE OF SCANNER
Non coated optical scanner
MICROPROCESSOR
360 MHz
MEMORY
128 MB flash memory & 16 MB SDRAM
ALGORITHM
BioBridge VX 10.0
DIMENSION (L X W X H), mm
184 x 38 x 134
STORAGE
• Fingerprint templates
2000
• Cards
Made to order
• Transactions
80000
ENROLLMENT & VERIFICATION
• Methods
Fingerprint (1:1, 1:N) & password

(Optional RFID option for TA500R)

• Recommended Fingerprint per user ID
2
• Fingerprint placement
Any angle
• Verification time (sec)
< 1
• FAR (%)
< 0.0001
• FRR (%)
< 1
CARD TECHNOLOGY
• RFID: 64-bit, 125kHz, RF output power (EN300-330)
Made to order
• MIFARE: MFIS50/S70, 13.56MHz
Make to order
COMMUNICATIONS
• Method
TCP/IP, USB disk
OPERATING ENVIRONMENT
• Temperature (°C)
0 ~ 45
• Humidity (%)
20 ~ 80
• Power input
12VDC1.5A
TIME ATTENDANCE
• Siren
Internal and external
• Work codes
Yes
MULTIMEDIA
• Greeting Voice
Yes
• Display
2.8" 3k color TFT screen
• Short messaging
Yes
• Internal backup battery
Yes (2-hours working, 4-hours standby)
VOICE / DISPLAY LANGUAGE (TERMINAL)
English (Standard), Arabic, Indonesian, Vietnamese, Spanish, Portuguese (Portugal), Russion, Thai, Turkish, French, Persian.
Other languages are available upon request.
SOFTWARE LANGUAGE
Arabic, Bulgarian, Chinese (Simplified), Chinese (Traditional), English, French, German, Hindi, Indonesian, Kurdish, Malay, Persian, Portuguese, Russian, Spanish, Thai, Vietnamese
Packaging
Dimension (mm) : 245 (L) x 90 (W) x 225 (H)
Weight : 1kg