FingerTec TA700W
Keep it simple with FingerTec TA700W, an elegant biometric scanner with WiFi capability. The TA700W is designed to be the most user friendly, convenient and efficient Time Attendance device for small & medium sized businesses and organizations. Forget about messy wires and sloppy punch cards, simply scan your fingerprint, and be on your way. Attendance data will be stored on the cloud-based TimeTec TA instantaneously for convenient retrieval. Time and Attendance management couldn't be made easier with TA700W.
---

Eliminate Buddy Punching
Restore honesty in your workforce with TA700W biometric scanner. Since no two fingerprints are alike, buddy punching is eliminated completely with this terminal.

Cloud-Ready Technology
TA700W pushes time and attendance data instantaneously onto the cloud-based TimeTec TA. With cloud technology, you can access and manage time attendance anytime, anywhere.

Full Colour Screen
TA700W comes with a full colour TFT screen for appealing display of company logo, screen saver and many more.

Manage Data Easily
The complementary TCMS V3 software and the subscription based TimeTec TA application have useful features and a variety of reports for your business. Data integration to 3rd party software is available through SDK.

Live ID Verification
With Live ID scanner, TA700W has an improved scanning ability that can even detect blurry fingerprints; taking data integrity to new heights.

Go Green
Do away with wires, cables, and papers. TA700W has WiFi for automatic wireless transactions; the automation gets rid of paper trails altogether.

Economical
The compact TA700W comes with high technology and useful features at an amazingly affordable price.

Independent Workforce
When employees are able to track their punctuality and tardiness conveniently using a mobile app like TimeTec TA, they can be more independent to amend work habits accordingly.
*Only available on TimeTec TA subscription
LAYOUT PLAN
System Communication
for illustration only **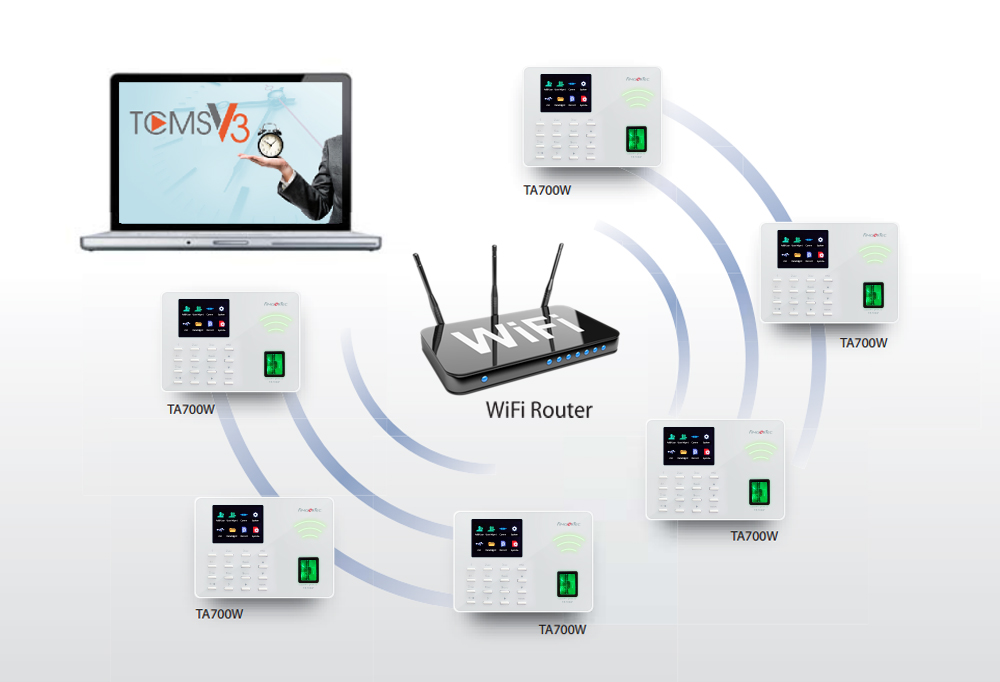 SPECIFICATIONS

MODEL
TA700W
SURFACE FINISHING
A crylonitrile butadiene styrene (ABS) & polycarbonate (PC)
TYPE OF SCANNER
Non coated optical scanner
PROCESSOR
180 MHz
MEMORY
8 MB flash memory & 16 MB SDRAM
ALGORITHM
BioBridge VX10.0
PUSH TECHNOLOGY
Yes
DIMENSION (L X W X H), mm
165 x 14 x 122
STORAGE
• Fingerprint templates
1000
• Transactions
50000
ENROLLMENT & VERIFICATION
• Methods
Fingerprint (1:1, 1:N) & password
• Recommended Fingerprint per user ID
2 (Max 500 user ID)
• Fingerprint placement
Any angle
• Verification time (sec)
< 1
• FAR (%)
< 0.01
• FRR (%)
< 0.1
COMMUNICATIONS
• Method
WiFi, USB
OPERATING ENVIRONMENT
• Temperature (°C)
0 ~ 45
• Humidity (%)
20 ~ 80
• Power input
5VDC 0.8A
TIME ATTENDANCE
• Work codes
Yes
• Fast transaction checking
Yes
MULTIMEDIA
• Greeting Voice
Yes
• Display
2.8" 65k color TFT screen
SOFTWARE LANGUAGE
Arabic, Bulgarian, Chinese (Simplified), Chinese (Traditional), English,
German, Hindi, Indonesian, Kurdish, Malay, Persian, Portuguese, Russian,
Spanish, Thai, Vietnamese
Packaging
Dimension (mm) : 298 (L) x 123 (W) x 222 (H)
Weight : 0.85kg