FingerTec Device Enclosure
Enclosures, made of transparent thermoplastic or acrylic glass, are specially designed to fit each FingerTec terminal's model for extra protections from dust, water, unnecessary punching of keypad and vandalism. The FingerTec enclosures are intended to reduce surrounding mild environmental hazards to lengthen the lifespan of the terminals but they are not made dust or waterproof to endure extreme weather conditions.
---
Customized to Fit Perfectly




The enclosure sizes are customized to be able to accommodate our various terminals, with windows and openings for your fingerprint scanning, USB flashdisk, and WiFi antenna

No More Vandalism




Is your FingerTec terminal exposed to damage? The robust and resistant material of the FingerTec enclosures help protect against vandals and other physically damaging forces that you may not foresee.

Providing Transparency




The enclosure is easy on the eyes with the material allowing 92% of visible light through at a thickness of 3mm.

Robust Material




The enclosures are made of a robust material that does not fade, discolor or crack easily, and most scratches can be easily buffed away. It is no wonder this material is used on airplane windows!

Card-friendly




Have you opted for card verification? The enclosures still allow you to use your card scanning technology with the "touch and go" concept. No interference involved.

Strong But Light




These protective enclosures are not just hard, but also light. This makes it suitable for mounting in most surfaces.

Protect Your Terminal




FingerTec enclosures help protect your terminal from dust and vandalism. So don't hesitate to install your terminals outdoors anymore!

Simple Installation




Installing these terminals are a piece of cake. With a mounting plate included, the enclosures come with an DIY installation guide to make things easy.
Layout Plan
Installation Diagram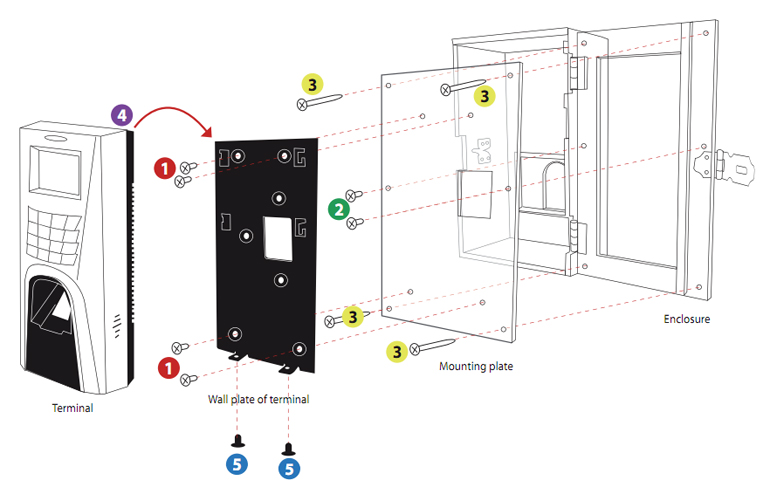 | | |
| --- | --- |
| 1. | Position the wall plate properly on top of the back plate; tighten the bolts and nuts to join these two plates together securely. |
| 2. | Position the back plate that has been attached to the wall plate, and the terminal to the enclosure; tighten the screws to secure them on the enclosure. |
| 3. | Mount the enclosure on a wall or a surface and tighten the screws to secure its position. |
| 4. | Hang the terminal on the wall plate, tighten the 2 screws at the bottom of the terminal. |
| 5. | Make sure that the enclosure has been mounted firmly by tightening all the screws. |
Note: Installation of enclosure with access control models
Before you start with step no. 1 above, make sure that all the terminal's wires are put through the enclosure, back plate and wall plate, and all the wires are connected to the terminal's port correctly.
Specifications
DIMENSIONS (L X W X H), mm & WEIGHT, kg

Kadex : 118 x 86 x 165 (0.5)
AC900 : 127 x 70 x 205 (0.5)
M2/R2 : 127 x 70 x 205 (0.52)
AC100 : 222 x 78 x 165 (0.66)
TA100 : 224 x 77 x 165 (0.66)
TimeLine 100 : 224 x 77 x 165 (0.68)
Q2i/TA200 Plus : 224 x 75 x 185 (0.72)
i-Kiosk 100 : 290 x 86 x 345 (0.82)
i-Kiosk 100 Plus : 290 x 86 x 345 (1.68)
Face ID 2 : 192 x 130 x 230 (0.95)
Face ID 3 : 116 x 83 x 234 (0.6)
Face ID 4/4d : 172 x 137 x 172 (0.65)

MATERIAL
Poly(methyl methacrylate) (PMMA)
THICKNESS
5mm
DENSITY
1.18g/cm3
MELTING POINT
160°C
BOILING POINT
200°C
Packaging
Dimension (mm): 298(L) x 123(W) x 222(H)


*Apply to all enclosures except i-Kiosk 100 Plus, Face ID 2 and Face ID 4/4d